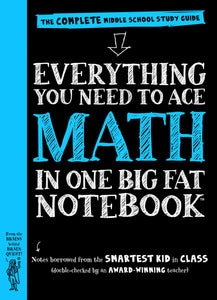 Everything You Need To Ace
The Complete Middle School Study Guide - Everything You Need To Ace Math 
The Complete Middle School Study Guide - Everything You Need To Ace Science 
The Complete Middle School Study Guide - Everything You Need To Ace Chemistry
It's the revolutionary math study guide just for middle school students from the brains behind Brain Quest.
    
Everything You Need to Ace Math . . . covers everything to get a student over any math hump: fractions, decimals, and how to multiply and divide them; ratios, proportions, and percentages; geometry; statistics and probability; expressions and equations; and the coordinate plane and functions.
Everything You Need to Ace Science . . . takes readers from scientific investigation and the engineering design process to the Periodic Table; forces and motion; forms of energy; outer space and the solar system; to earth sciences, biology, body systems, ecology, and more.
his Big Fat Notebook covers everything you need to know during a year of high school chemistry class, breaking down one big bad subject into accessible units. Learn to study better and get better grades using mnemonic devices, definitions, diagrams, educational doodles, and quizzes to recap it all. 
The BIG FAT NOTEBOOK™ series is built on a simple and irresistible conceit—borrowing the notes from the smartest kid in class.
The BIG FAT NOTEBOOKS meet Common Core State Standards, Next Generation Science Standards, and state history standards, and are vetted by National and State Teacher of the Year Award–winning teachers. They make learning fun and are the perfect next step for every kid who grew up on Brain Quest.