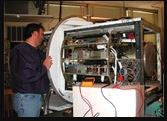 2023 High Tech Tour
It is extremely important that you read all of the following information before making your purchase.
Upon checkout, select "Pickup" as your shipping option. You will not collect your ticket until the day of your tour;  Ticket admits one; no discounts apply.
Cancellations and date change requests are accepted outside of one week from your purchased tour time. Inside of one week, refunds and date changes will not be issued.
The High Tech Tour requires that a visitor registration form be submitted.  The visitor registration form can be found at https://info.nrao.edu/oas/dpscompliance. This must be submitted after your purchase for your reservation to be confirmed. 
Ticket includes tour and access to our Science Center to visit the Exhibit Hall, Gift Shop, and Cafe.
High Tech Tours are back!
Look inside receivers and marvel at the precise engineering required to collect the faintest signals from the Universe! An Observatory engineer will pull back the curtain on our site labs and telescope control room as you see what makes our observatory one of the world's leading radio telescope facilities.
Select Thursdays; 3:30 p.m. - 4:30 p.m; $25/person. Advance reservations and screening required. 15 participants max.; 4 min. Ages 12 & up. No photography of any kind is permitted.
In the event of severe weather conditions, the Green Bank Observatory site and Science Center could close. We will make every attempt to notify ticket holders about closures. Feel free to call us at 304-456-2150 before departing on your trip to our site if you have any concerns. 
If local community levels of COVID-19 as reported by the CDC are high, masks will be required for all staff and visitors indoors and on buses. We do have masks available if you do not have your own.