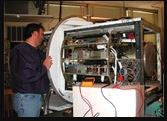 2023 High Tech Tour
Please read the following information carefully before making your purchase.
Because of the additional time required for clearance, we cannot offer refunds or exchanges with less than 1 full week's notice. Requests must be made no later than the Thursday before your scheduled tour.  
Meet an Observatory engineer for an in-depth conversation about the electronics and mechanical engineering that make the GBT one of the most sensitive single-dish radio telescopes in the world. Our engineers will offer a peek inside our electronics lab, show you the inner-workings of a radio telescope receiver, and give you a tour of the GBT control room. See what makes Green Bank Observatory one of the world's leading radio telescope facilities! 
High Tech Tours are offered the 2nd Thursday of each month from 3:30-5:00 PM. $25/person. Advance reservations required; 15 participants max; recommended for ages 16 & up. 
Select "Pickup" as your shipping option at checkout. No tickets will be issued. Check in at the Gift Shop or Front Desk upon arrival.  

Ticket admits one; no discounts apply.

A clearance check is required.  Submit your Visitor Registration Form at least 72 hours in advance to allow ample time for your clearance to come through. https://info.nrao.edu/oas/dpscompliance

Name of AUI/NRAO/GBO Host: Angela Damery

Purpose of Visit: SETI/High Tech Tour 

Location - AUI/NRAO/GBO Facility: Choose all 3 Green Bank, WV locations

No photography is permitted in the electronics lab.

Come early to enjoy the Exhibit Hall, Galaxy Gift Shop, and Starlight Cafe! If you would like to take a Guided Bus Tour ($10/pp) to learn more about the history of the Observatory and see the telescopes on site, the 2PM tour will get you back in time for your High Tech Tour.
In the event of severe weather conditions, the Green Bank Observatory site and Science Center could close. We will make every attempt to notify ticket holders about closures. Feel free to call us at 304-456-2150 before departing on your trip to our site if you have any concerns.