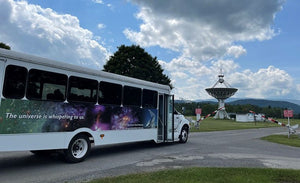 Guided Bus Tour December 2023
Enjoy a guided bus tour of the Green Bank Observatory campus!  This Ticket Includes Guided Bus Tour and Presentation/Building Access
Day-of tour tickets can be purchased upon arrival as availability allows.
Upon checkout, select "Pickup" as your shipping option. You will not collect your ticket until the day of your tour; check in at Gift Shop.
The Green Bank Science Center is the starting point for your guided tour of the Green Bank Observatory site. Join one of our tours to explore the fascinating world of radio astronomy. Our Guided Bus Tour features science demonstrations and a short film about the world-class Green Bank Telescope (GBT). This tour continues with a bus excursion through our gates into the electronics-restricted Zone 1 for an up-close look at our telescopes - from the pioneering instruments of the 1950s, to the world's largest fully-steerable telescope, the GBT. Ticket includes tour and access to our Science Center to visit the Exhibit Hall, Gift Shop and Starlight Cafe.
Please note: For everyone's safety, we are unable to provide the Guided Bus Tour to only one participant. If you purchase one ticket and do not have flexibility in your schedule, feel free to call us at 304-456-2150 on the morning of your tour to see if others are taking the tour.  We will refund your ticket price if we are unable to provide your tour. We apologize for the inconvenience.