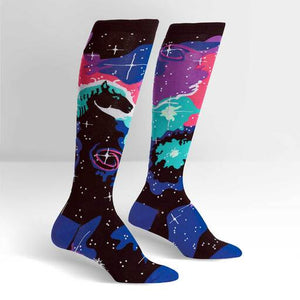 Horsehead Nebula Knee High
Though it's nearly 1500 light-years from Earth, the Horsehead Nebula does look like a horse's head peeking from the dark clouds when viewed from our home planet. The horse head is so prominent because the dust it consists of is so thick it blocks the starlight behind it. Scottish-American astronomer Williamina Fleming was the first to discover this beautiful nebula in the Orion constellation. Thanks, Williamina, for giving us a peek into the mysteries of our splendid universe.
54% Cotton, 38% Polyester, 5% Nylon, 3% Spandex. Made in S. Korea.
Our threads are certified by OEKO-TEX® Standard 100, which means we leave out harmful chemicals to keep your skin safe and happy.
Approximately fits women's shoe size 5-10 and men's shoe size 3.5-8.5.