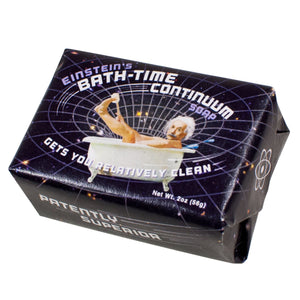 Einstein Bath Soap
Contains 100% almond and cocoa butter scented molecules! WARNING: Do not use as a shampoo. May result in crazy genius hair.

Almond, cocoa butter scent. Each piece of mini soap is 2oz 2.25" x 1.75" x 1"

Made in the USA. Not tested on animals.

Try the rest of our Foam Sweet Foam soaps. Does ordinary soap leave your bathroom dull? Make your sink or tub interesting with these smart little soaps.