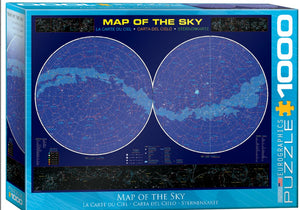 Map Of The Sky 1000 Pc Puzzle
EuroGraphics Map of the Sky 1000-Piece Puzzle
Box size: 10" x 14" x 2.37". Finished Puzzle Size: 19.25" x 26.5".
Images of The Northern and Southern Hemispheres include constellations, double or multiple stars, variable stars, galaxies, diffuse and planetary nebulae, Milky Way Galaxy, open clusters, globular clusters, North Galatic Pole and South Galatic Pole.
Strong high-quality puzzle pieces.
Made from recycled board and printed with vegetable based ink.
This superior quality puzzle will delight and educate all at the same time.