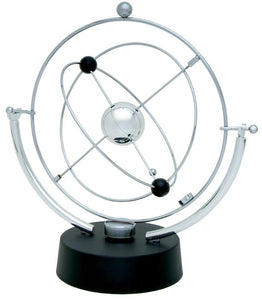 Orion Electronic Perpetual Motion
Bring some atmosphere to your desk or your room with this mesmerizing 9" tall kinetic sculpture. Onlookers will be captivated by the continuously dancing orbs. This display of kinetic energy tracing an invisible oscillating gyroscopic pattern through space is sure to delight and educate! A great gift for your little scientist or for your desktop at work.
Features:
- A 9 V battery and magnetic forces keep it in motion (9 V battery sold separately)
- Conversation starter
- Stunning decorative addition to any office or home
- Tabletop mobile rotates in constant movement (provided the battery is good)

Age range: 3+ years
Some assembly required
9V Battery required (not included)
Dimensions:
- Box: 7" x 2.8" x 7"
- Assembled: 4.25" x 9"